MABIKAs Foundation, The Philippine Cordillera Connection in the Netherlands, joins The Filipino Parish Netherlands (FPNL) in celebrating the very first commemoration of Indigenous Peoples' (IP) Sunday  here in the Netherlands. Since 1978, however, the IP Sunday has been celebrated by churches in the Philippines in recognition and in solidarity with the indigenous people known as the katutubo, tribo, or pambansang minorya (national minorities). The term indigenous people were first used by the United Nation in 1990's as a reference for all tribal people in the first world.
WHAT: Indigenous People's Sunday Celebration
WHEN: 28 October 2018 (Saturday), 13:30-17:30
WHERE: Ruysdaelstraat 39, 1071 XA Amsterdam
With the theme, "IP Celebration of Life, Affirmation of Hope," the objectives of celebrating this event on October 28, 2018 are as follows:
1. To celebrate life and give a testimony of the churches' recognition, respect, and solidarity with the indigenous people.
2. To inform the wider Filipino community and Dutch non-government organizations of the indigenous people situation.
3. To further give voice and face to the indigenous people.
4. To open a platform for indigenous people groups, organizations, and individuals to meet up and foster unity.
PROGRAM OVERVIEW
13.30- 14.00   Arrival & Registration (Coffee & Tea)
14.00- 15.00   Part 1: Liturgical Celebration
15.00- 16.45   Part 2: Forum/ Panel Discussion on IP Situation, Rights & Hopes
16.45- 17.15     Merienda Time & Networking
DIRECTION TO VENUE: Old Catholic Church, Ruysdaelstraat 39, Amsterdam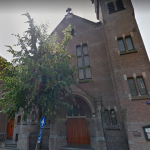 By public transport: From Amsterdam CS, take Tram 24 (direction Medisch Centrum), and get off at Roloef Hart Plein stop (15 min). You will see restaurant named Wildschut, and on the left is Cornelis Anthoniszstraat (Oud Zuid). From there, walk towards Pieter Baatstraat , turn left ( you see the side of the church). Turn right to the entrance of the church at Ruysdaelstraat.
MORE ABOUT IP SUNDAY
The Indigenous People's Sunday is a yearly event that started in 1978 by the Catholic Bishops' Conference of the Philippines. The catholic Bishops have accepted and declared the second Sunday of October as Indigenous Peoples Sunday formerly Tribal Filipino Sunday, aims to call attention to the plight of the indigenous people who are often exploited and discriminated against in the society. Source: CBCP News
The IP Sunday 2018, the 1st in the Netherlands, is organized by The Filipino Parish Netherlands (FPNL) and supported by MABIKAs Foundation-The Netherlands.
For more details and information, please contact Rev. Cesar Taguba, Event Coordinator, at 0625199495. Free entrance. Donations are always welcome.
(Featured image credit: National Council of Churches in the Philippines)