BOARD MEMBERS
The Governing Body of the Foundation
Call me Myra. I was born in the province of Benguet and grew up in Baguio City. I moved to the Netherlands in November 2012. In terms of education and work background, I have over 15 years of professional experience in careers involving information, learning & teaching, research, data analysis, marketing and communications.
Back in the Philippines, I started out as a journalist, writing and reporting for Bombo Radyo Baguio, then I shifted to teaching and taught English as a second language at Baguio City National High School. My adventurous self led me to China, where I pursued other interests and studied web design and development as well as business administration. In Shanghai, I worked as content manager for an information company catering to multinational companies in the medical, biotech and pharmaceutical sectors in China. At present, I find a new home in the Netherlands with my beautiful son, a loving husband, and my entrepreneurial initiative I named E3 Data Intelligence Services.
Founding MABIKAs is like finding myself. It is such a great joy and priviledge to be able to re-live our indigenous selves, sharing common values and practices that keep reminding us of our roots (no matter how far we are from our first home).
When not at work, you can find me volunteering for women organizations empowering Filipinas and women entrepreneurs in the Netherlands.
MYRA COLIS
I am a Bontok Igorot from Alab, Bontoc, Mountain Province. My mother, Ana Kay-an, is a Bontok Igorot and father, Honesto Belen—born in Bontoc, Mountain Province—traces his roots from Candon, Ilocos Sur and Santa Rosa, Nueva Ecija. I am a physician and teacher. Since 2002, I have been helping in planning biennial conferences of Igorot Cordillerans in Europe. I also help in posting articles for the ICBE website.
For me, the establishment of MABIKAs Foundation in the Netherlands and my being in the foundation is a dream come true. I can be with other Igorot Cordillerans, I can learn more of the Igorot Cordillera heritage and I can pass on this heritage to the second- and third-generation.
Hobbies includes cooking, watching television especially documentaries and reading books on travel narratives. My husband and I are blessed with one daughter, two sons and four grandchildren. We all live now in the Netherlands.
"A dream written down with a date becomes a goal. A goal broken down into steps becomes a plan. A plan backed by action makes your dreams come true." ~ Anonymous
YVONNE BELEN
Hi, my name is Renijune Binwag Abaya, a native of Buguias Benguet. My father is from Benguet and my mother is from Ifugao. I studied at Saint Louis University in Baguio City. I have lived in the Netherlands for almost 14 years, and am currently working as a housekeeper for old and handicapped people. I am blessed to have 3 lovely children and 1 grandson.
I find it important to pursue the mission , vision and goals of MABIKAs Foundation because it is important for me to let our culture live and pass our knowledge to the next generation. Though our children may not have the privilege to experience our Cordillera traditions first hand, having the opportunity here in the Netherlands to introduce to them where their parents come is something worth doing. I also don't want to forget where I came from, and that is why I am passionate about continuously learning about and loving my indigenous origin even when I am thousand miles away from Cordillera. Being far from home, I also find it very important to be keep building connections with my fellow Igorots here abroad and all over the world. May our Igorot community stay strong through gathering with a united purpose.
When free, you can find me sewing a dress or having quality time with my friends.
RENIJUNE ABAYA
I was born in Adaoay, Kabayan, Benguet in an evacuation  area during the Japanese Occupation in 1943. As a patriot and churchworker, I engaged in work for justice and peace for which I was tortured and a politic al prisoner for 3 years. While in  Europe on a speaking engagement against the US-Marcos dictatorship, a warrant of arrest was issue for my arrest and upon the advice of Dutch and Filipino friends, I applied for political asylum in 1984. Since then, my family and I  stayed in the Netherlands.
The MABIKAs Foundation is an organized expression of our desire to  learn and promote our  values, culture, memories and vision as  national minorities towards a self-determining and progressive Cordillera society. Let the  gangsas/solibao, chants and salidumays  resound to celebrate life, proclaim our vision/mission, affirm the hope : and joy in us as change makers.
I enjoy reading books on history, sociology, politics, spirituality; being with my family especially grandchildren; nature walk.
CESAR TAGUBA
MABIKAs ACTIVE PIONEERS
The Supporting Body of the Foundation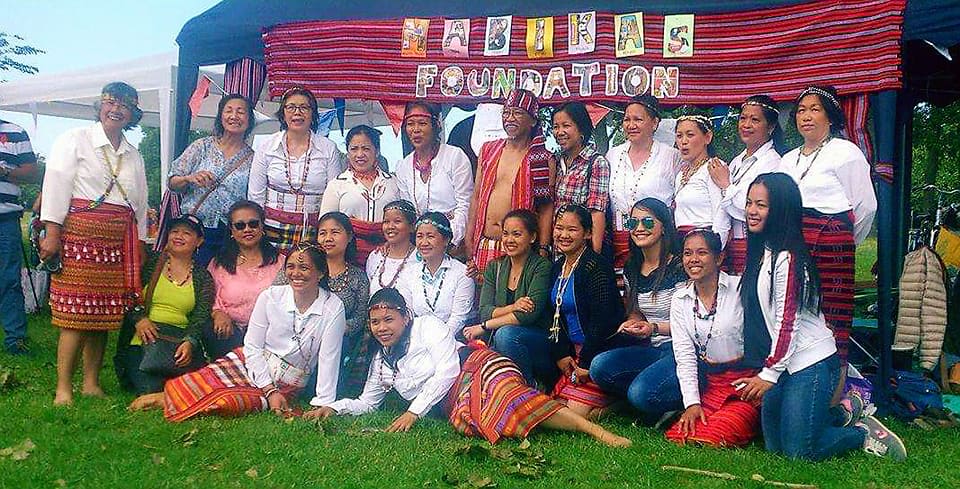 Together with the members of the MABIKAs Board, we are also very lucky, delighted and thankful to have YOU on board and be part of the MABIKAs Working Team!
Ellyza Jain Abaya | Andrei Angnged | Sheila Begiwa | Janet Barcena | Lorita Bocarile | Mirasol Bocarile | Leticia de Jong | Mercedes Dewalan | Joana Jopap-ing  | Rachel de Weerd | Theresa de With Essler | Maridel Gayao | Michelle Gumatic| Lourdes Japson | Sophie Lonogan | Gina Gibson Malunas | Heidi Marcelo Hardenberg | Christine Moncado |  Aprille Sandiwa | Joy Tallayo | Luniza Taoil | Aida Tingalon | Jean van de Peut
Get to Know Us More
Join Us & Get Involved