A narrative by Yvonne Belen
Kidkat Tahimik (Silent Lightning) -a Filipino artist, writer and independent filmmaker-was  one of the awardees of the Prins Claus Fund 2018. The awarding ceremonies was held in Amsterdam, The Netherlands on December 6, 2018. In the evening of December 5 the Prins Claus Fund laureates presented their work at the Compagnietheater in Amsterdam during a forum called "Louder than Words."
Among the MABIKAs Board members who attended the forum were: Myra Colis, chairperson; Yvonne Belen, secretary; Renijune Abaya, treasurer; and Cesar T. Taguba, member. Jofelle Tesorio, correspondent of ABS CBN was also present.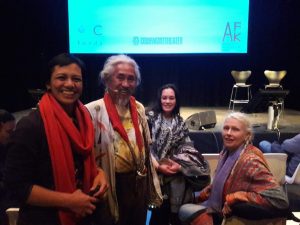 Before the forum, Myra, June and Jofelle got acquainted with Kidlat and had some picture taking. After the forum, Cesar and Yvonne talked with Kidlat. They invited him to the MABIKAs Christmas party to be held on December 8th and to the 10th Igorot Cordillera BIMAAK-Europe (ICBE) conference to be held in Amsterdam on July 26-29, 2019. For the former invitation, Kidlat said he was leaving for Berlin after the awarding ceremonies. He also said although they live in Baguio City, he now spends much of his time in Hapao, Banaue, Ifugao.
Louder than Words
During Kidlat's presentation at the forum, we first see on the screen, a 20 year old man in a G-string running in the forest. He climbs a tree and sees an animal below looking up at him. The young man gets a yo-yo from his small bag and throws it at the animal, which  goes away.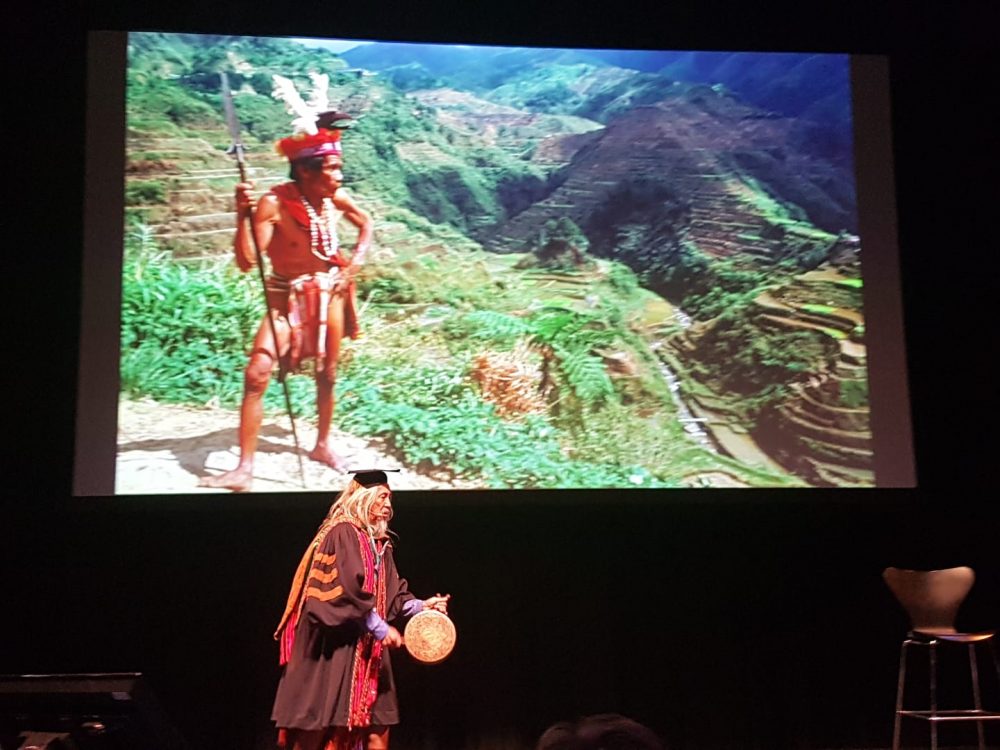 Then follows Kidlat in his toga and gown. and holding his diploma. He makes a dramatic march to the stage to the tune of the Grand March from the opera, Aida. He gives his diploma to his mother. He later realizes he is being uprooted and alienated from the culture of his people. Then he goes through the process of rediscovering and taking roots in the history of his ancestors whose ingenuity constructed the rice terraces 3,000 years ago. He tears his diploma, gets rid of his toga and gown, removes his necktie and places it on his loincloth where he says, "It belongs"—all of these symbolizing a culture that is alien to the culture of the indigenous peoples.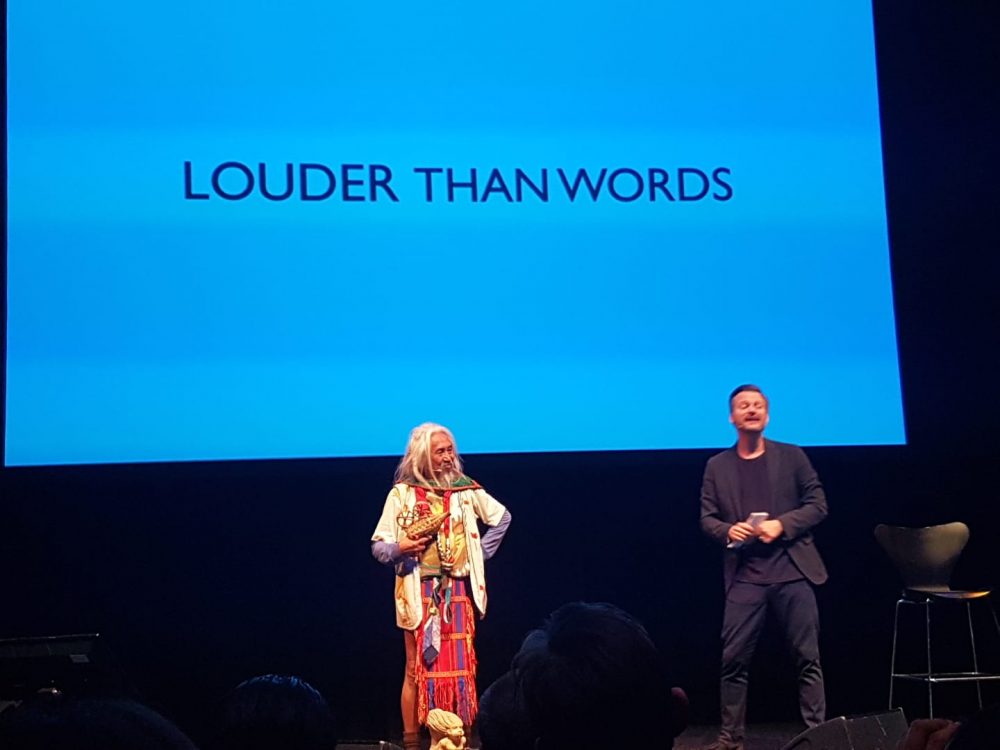 After Kidlat's presentation, he is interviewed. He is introduced as a promoter of indigenous culture. At the end of the interview, Kidlat is asked, "How do we assure the future of the indigenous peoples?" His reply: They have the answers to climate change. They look at a tree or a river as part of the 'other.' They have something that are brakes for development. If we listen to our indigenous brothers and sisters, we will find, sooner or later, a balance.
Kidlat brought along with him a replica of an indigenous camera and other woodcarving.
From the Prins Claus Fund website
Kidlat Tahimik is an "an artist in many disciplines and a creative force in his community.  Called the Godfather of the Filipino New Wave, Kidlat's work ranges from film and photography to weaving, free-style architecture and carved installations. While working as an economic researcher for the OECD in Paris, Kidlat's imagination was ignited by film. He tore up his MBA degree, quit his job, and poured his heart into his first film, Perfumed Nightmare (1977), a fictionalised version of his own dream trip to the West and subsequent disenchantment, which won the International Critics Award in Berlin. Kidlat is an enthusiastic advocate of indigenous culture. He organises conferences of indigenous peoples from around the world. His unconventional artworks raise awareness about environmental issues. He has designed and built two imaginative art centres using local craftsmen and found materials where local artists and craftspeople can exhibit their works. He generously gives his time mentoring young creatives and promoting independent creativity in workshops."
On Kidlat Tahimik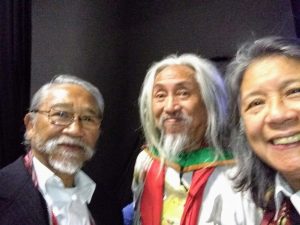 Kidlat Tahimik was born in Baguio City, Philippines in 1942 as Eric De Guia. His mother,  Virginia de Guia, was a former post-war mayor of Baguio City. He finished grade school at Maryknoll Convent School, Baguio City and secondary studies from the St. Louis University Boy's High School also in Baguio City. He graduated with a speech and drama course at the University of the Philippines (UP) in Diliman, Quezon City. While at UP, he became president of the University of the Philippines Student Council from 1962 to 1963.
Like Kidlat, his family members are artists. His wife, Katrin is a writer; oldest son, Kidlat "Lightning" de Guia is a television and film director; son Kawayan "Bamboo" de Guia is a painter, and youngest Kabunyan, "the Igorot name for god" is into painting.
With Kidlat Tahimik as "Prince Claus Fund Laureate" in 2018, the Philippines, particularly the indigenous peoples, is again on the world stage of culture and development.